MBBS in Kyrgyzstan
The lowest cost medical programs for Indian students is available at MBBS in Kyrgyzstan. At the total cost of below Rs. 12.00 Lacs including the fees structure and hostel accommodation. MBBS Admission in Kyrgyzstan can be completed within 6 years. Basically, totally 5 MCI recognized medical colleges in Kyrgyzstan are available. In earlier days, the Kyrgyzstan was a part of former USSR. Further, it split from modern Russia in 1991. The Indian students feel comfortable in Kyrgyzstan, Because the weather is almost similar to Indian cities in North India. Also, the cost of living is slightly lesser than India. For Indian students who wish to study MBBS abroad, must definitely consider choosing a top university from the Kyrgyzstan medical university list.
Kyrgyzstan officially the Kyrgyz Republic, is a country located in Central Asia. Landlocked and mountainous, Kyrgyzstan is bordered by Kazakhstan to the north, Uzbekistan to the west, Tajikistan to the southwest and China to the east. Its capital and largest city is Bishkek.
Kyrgyzstan is a member of the Commonwealth of Independent States, the Eurasian Economic Community, the Collective Security Treaty Organization, the Shanghai Cooperation Organization, the Organization of Islamic Cooperation, the Turkic Council, the TÜRKSOY community and the United Nations. Kyrgyzstan has stated its desire to join the Customs Union of Belarus, Kazakhstan and Russia. Kyrgyzstan is occasionally referred to as "the Switzerland of Central Asia".
Why MBBS in Kyrgyzstan
General Medicine – English Version (6 Years)
Admission by simple application, NO ENTRANCE, Easy student visa application process
NO ENTRANCE | NO DONATION I LOW FEE
Premier Universities and Ranked the Best in the country.
Entire education in English Medium.
Low Cost, High Demand, Limited Seats
High Quality Education.
Only 10 students per class. Individual attention.
MCI Recognized: Eligible for Govt. Jobs and PG Courses in India
The educational fees are very low due to subsidy by the Government.
Affordable medical study tuition fees and living expenses
International accredited universities and recognized degrees
Proven excellent academic standards
Duration of course after 10+2 standard in Kyrgyzstan is 6 years.
Medical degrees are recognized all over the world, by WHO, UNESCO, etc.
Best opportunities for clinical exposure at university run hospitals
Recognized by International Association of Universities, Medical Council of over 180 countries
International Degree: Recognized by WHO, Medical Council of India, FAIMER
International airport is only 4hrs away from India making it easy accessible from Delhi.
Medical Universities providing MBBS degree are recognized by World Health Organization and also by the Medical Council of India. So, with this degree in India, you can sit for the screening test that is required to fetch a job in this field. Academic year of this course consists of two semesters, and the classes begin in the month of September. The module of the course follows the international standards. Medium of instruction of this course is in English, which helps the international students to a great deal. Students with this degree can apply for employments test in European Union and USA also.
Current education system is a multilevel system, which consists of the following three main types of education programs, the main purpose of which is the development of the student's aptitude, abilities and talents
Special educational programs for infant preschool institutions
Public programs, which have a purpose of development of general culture and intellect of a person, creation of a base for successful profession acquirement and obtaining of a qualification.
Professional programs, providing gradual growth of professional level, preparation of qualified specialists.
Higher education is represented by academies, universities, institutes, higher colleges, etc. At present two systems of higher education are functioning in Kyrgyzstan: traditional permanent 5-year education system and multilevel system, providing three levels of higher education: incomplete higher education, basic higher education (bachelor degree and speciality) and complete higher education (master degree and speciality teaching).
Top Universities for Study MBBS in Kyrgyzstan are :
Kyrgyz State Medical Academy (KSMA)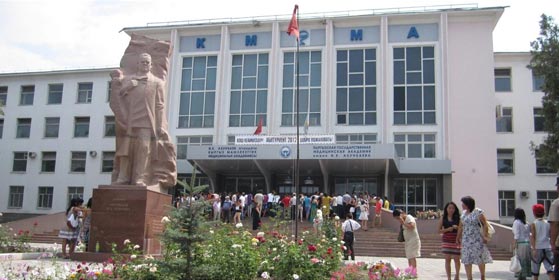 The General medicine programme is aimed to produce physicians (MD) with the specialization in the selected area. The programme is built up in accordance with standards accepted by medical universities of CIS and Europe.
The KSMA also offers this programme in English; however it is required that by the third year of studies students will be obliged to speak Russian to be able to work with patients. To meet this requirement students take intensive Russian language courses during the first and the second years of studies.
Postgraduate specialization for both programmes is implemented at the center for postgraduate Education within the broad range of specialties (Surgery, Gynaecology, Family Medicine Internal Medicine, ophthalmology, grammatology, and other) from 2 to 3 years.
The Asian Medical Institute, Kant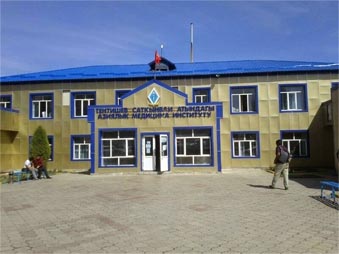 Currently, the Asian Medical Institute has students from over 10 countries, including India, Russia, Nepal, Germany, Pakistan, Kazakhstan and Nigeria. The medium of instruction at the institute is the English language and the length of study for an MD (equivalent to MBBS in India) is six years.
The tuition fee is US$ 2,100 per year. The college is recognized by Medical Council of India and WHO. This means that Indian students are eligible to sit for screening test after completion of the medical degree here.
The college has a separate hostel for Indian students and separate hostel of boys and girls. Indian food is served to the students to the students at the hostel mess. The hostels are centrally heated and rooms are available on sharing basis. The overall cost of education is very low at Asian Medical Institute. The good quality education along with low fees makes it a favourable college for foreign students. In addition, students can also avail coaching for MCI Screening Test.
Jalalabad State Medical University
The Jalal Abad State University was started in the year 1993. It is a public institution which provides higher education in the various fields of education including health & medicine, energy, electronics and agricultural sciences. The main campus and three faculties of the university are located in Jalalabad while the rest are spread over in between Tash-Kumyr, Kara-Kul, Kochkar-Ata and Mayluu-Suu.
Osh State Medical University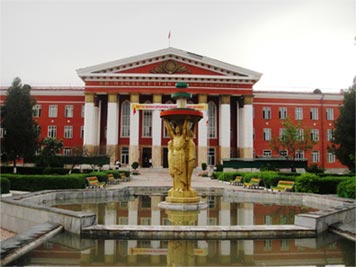 Osh State University is a Government university. Osh State University was founded on 24 May 1951 as Osh State Pedagogical Institute & achieved status of the University on 17 June 1992. Osh State University is the leading educational, cultural and scientific centre of southern Kyrgyzstan.
Osh State University came into being in the year 1992 when the OSH State Institute was reorganised to become the Osh State University. Ever since its inception, the university has been welcoming students from within and outside the country. By virtue of being listed in the WHO's list of medical schools and also being a part of the global database of medical schools, this institute has been able to impart education to the students from countries like Nepal, India, Turkey, Iran, Pakistan, Palestine, Uzbekistan and more. Medical faculty of the Osh State University is also listed with the Education Commission for Foreign Medical Graduates, USA (ECFMG), IMED or the FAIMER International Medical Education Directory.
Fees Structure for MBBS in Kyrgyzstan
Note :-
View full fees structure, scroll left to right
Hostel Charges Depends on the Availability of room / Accommodation Type at the time of arrival of student in the university.
Food Charges Depends on the student's lifestyle minimum of 100$ per month
One time charges as mentioned above refers to Visa Renewal & all other documentation on arrival in Kyrgyzstan
Rates for air ticket shall be paid as per rate on the date of actual booking or travel
Admission Application Processing Fee (one time expenditure to be paid in India)
This Includes Admission Processing, Preparation & Processing of Documents of the candidates for forwarding to the Ministry of Education of Kyrgyzstan for Approval, Invitation Letter, Translation of documents in Kyrgyz; Legalization of Documents in MEA, Government of India & Embassy of Kyrgyz Republic in India, Visa Fee, Health Insurance, ALL Pre Departure Procedures, ONE WAY Air Ticket
PLEASE NOTE - ALL THE ABOVE IS NON-REFUNDABLE