Emilio Aguinaldo College, Philippines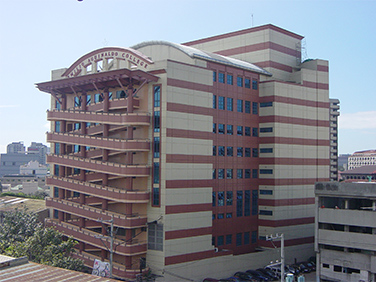 ESTABLISHED: Private non-sectarian Coeducational started in 1957
ACADEMIC AFFILIATIONS
ASAIHL - Association of Southeast Asian Institutions of Higher Learning
PAPSCU - Philippine Association of Private Schools, Colleges and Universities
STUDENTS: Approx. 6,000
ADDRESS : 1113-1117 San Marcelino St., Ermita, Manila, Metro Manila, Philippines
CAMPUS : Ermita, Manila & Dasmariñas, Cavite
SPORTING AFFILIATIONS: Ermita, Manila & Dasmariñas, Cavite
Emilio Aguinaldo College (EAC) is a private, non-sectarian institute of education located in Manila,
Philippines established in 1957. It runs under the management of the Yaman Lahi Foundation Incorporated.
FORMERLY NAMED AS: Ermita, Manila & Dasmariñas, Cavite
Marian School of Midwifery (1957)
Marian School of Nursing and Midwifery (1959)
Marian Junior College (1973)
General Emilio Aguinaldo College (1977)
In 1959 Dr. Crisanto S. Vito Cruz and Gregorio T. Delgado together with Mrs. Lolita R. Vito Cruz established the Marian School of Nursing and Midwifery.
In 1973, from Marian School of Nursing and Midwifery, its name was changed to Marian Junior College. Its level was elevated to full-fledged College.
College of Arts and Sciences was added to the list of colleges in 1976.
Marian College began building the first school units at Dasmariñas, Cavite in 1977 to support the government's policy on dispersal and decongestion of student population in Metro Manila particularly in institutions of higher learning.
In September 1977, the name Marian College was changed to General Emilio Aguinaldo College, to apply to both Manila and Cavite campuses. Eventually, the title "General" was dropped.
All courses offered in Manila were given permit to be offered in Cavite.
On October 21, 1979, EAC Foundation Inc. was established at Dasmariñas, Cavite, thus giving birth to the Emilio Aguinaldo College of Medicine with Dr. Lourdes E. Campos as Dean.
In 1980, UPSI formed the Yaman Lahi Foundation, Inc. to manage and operate Manila and Cavite campuses.
Within the next five years, the focus was on curricular program development, which paved the way to more courses being given government recognition.
The College of Medicine and the University Medical Center of EAC Cavite was sold to De La Salle University, now known as De La Salle University Medical Center (DLSUMC) under the division of De La Salle Medical and Health Sciences Institute (DLSMHSI).
After that, the EAC administration focused on the development of EAC-Manila.
EMILIO AGUINALDO COLLEGE HAS TWO CAMPUSES.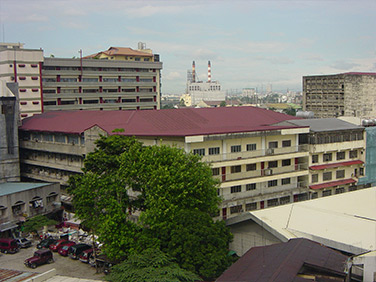 The Emilio Aguinaldo School of Medicine implements the Outcomes-Based Curriculum (2015-2016) in observance with the 10 learning outcomes namely:
Demonstrate Clinical Competence; Communicate effectively;
Lead and manage health care team;
Engage in research activities;
Collaborate with inter-professional teams;
Utilize system-based approach to healthcare;
Engage in continuing personal and professional development;
Adhere to ethical, professional and legal standard;
Demonstrate nationalism, internationalism and dedication to service;
Practice the principles of social accountability. 
It is a 4-year curriculum leading to the degree of Doctor of Medicine, with an addition of 1-year internship in any APMC accredited hospital.
HOSPITAL AND COMMUNITY AFFILIATIONS FOR CLINICAL TRAINING
Manila Med (Base Training Hospital)University of the Philippines
Philippine General Hospital (UP-PGH)
Ospital ng Maynila Medical Center (OMMC)
Emilio Aguinaldo College Primary Care Clinic and Birthing Facility
Our Lady of Sorrows Foundation Community Outreach Center, Inc. (OLSOFI)
Emilio Aguinaldo College Medical Center – Cavite
Dasmariñas City Health Office (Pagamutang Bayan)
INTERNATIONAL LINKS AND ACCREDITATIONS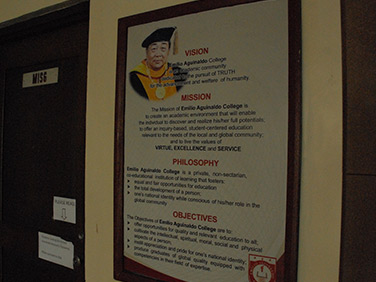 Qiqihar Medical University, China
Thai Medical Council
Ospital ng Maynila Medical Center (OMMC)
Nepal Medical Council
Medical Council of India
Emilio Aguinaldo College Medical Center – Cavite
Medical Council of Sri Lanka
FEE STRUCTURE EMILIO AGUINALDO COLLEGE, PHILIPPINES
Exchange rate: 50 PHP = 1 USD = 70 INR (approx.). Fees are denominated in PHP.
Exchange rate will be considered on the day of payment of fees.
Note: Tuition Fees are to be paid directly to the University and not collected by any agent.
Other Expenses:
Admission & Visa processing in India 1.– Rs. 75,000/-
Admission & Visa processing includes: MEA Attestation, Red Ribbon & Visa Fees.
2.Visa conversion in Philippines = 700 $ one time.
3.If student is below 18 years, then SSP fees @ $300.
4.Visa Renewal from 2nd year onwards is $300.
5.Air ticket on actual basis.