Kiev National Medical University n.a. O. O. Bogomolets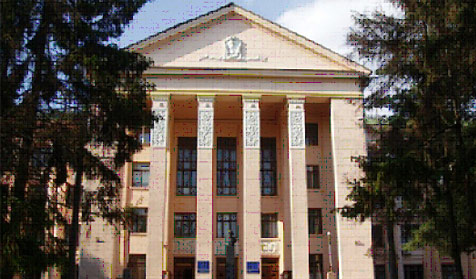 Kiev National Medical University n.a. O.O. Bogomolets is one of the oldest leading medical universities for study MD Physician course equivalent to MBBS in India
Kiev National Medical University n.a. O.O. Bogomolets is situated in the large administrative, industrial, agricultural, scientific and cultural centre -The Kiev "Capital of Ukraine" considered a pearl of the Russia.
Kiev National Medical University n.a. O.O. Bogomolets is established in 1840 with 10 departments.
Kiev National Medical University n.a. O.O. Bogomolets completed its 176 years of its existence in 2016.
University Today
One of European's most highly ranked medical universities;
Diversity and expansion – education and research in 12 Medical Courses;
Variety of undergraduate and Post graduate medical courses;
Student Exchange and Research Collaboration with European medical universities in Mainland Europe;
Excellence in experience of training world class doctors;
Regular monitoring of educational process and individual approach to each student;
Medical technologies of highest standards, purpose-designed, modern, interdisciplinary campus facilities;
European education standards of student life with great cultural offerings and various festivities;
International Co-Operation – Kiev National Medical University n.a. O.O. Bogomolets is the only Ukrainian Medical University, cooperating with numerous European universities;
Leading medical educational establishment among higher medical schools in Ukraine on academic and methodical work and improvement of qualification for scientific and teaching staff at higher medical schools of Ukraine of IV accreditation level;
Basic higher medical school on implementation of Bologna declaration's principles into the reforming system of medical education in Ukraine;
12 Courses, 7 institutes and centres, 78 departments, 30 divisions and laboratories;
1,200 scientists and teachers, among which: 137 professors, 188 doctors of sciences, 341 assistant professors and 719 candidates of sciences;
Over 200 academicians and corresponding members of NAS, AMS, APS of Ukraine, laureates of State Prize of Ukraine, honorary workers of science and technology, workers of education and doctors, as well as inventors of Ukraine;
10 specialized scientific councils on defense of DPhil and Ph.D theses due to 21 scientific specialty;
Every year the university receives over 200 patents on inventions, holds approximately 60 scientific forums, publishes over 50 scientific monographs, 30 scientific magazines and collections of scientific works;
Over 13,000 students, doctors-interns, masters, residents, post-graduates and persons, working for doctor's degree, among which about 1,200 foreign citizens;
The graduates from the University work in each fourth country in the world;
English speaking department, which is called Kiev medical Harvard, Ukrainian Medical Lyceum;
43 agreements with the international and foreign organizations and institutions, co-founder of Interuniversity centre of science and cooperation in countries in South and South-Eastern Europe, East European chain of universities, participant in 27 educational and 49 scientific international projects;
Partner in EU program "Erasmus Mundus" to provide with mobility of students and teachers, together with Caroline institute (Sweden) it implements the academic and scientific program on training of young scientists;
University actively cooperates with WHO and ERB WHO;
Scientific library with the stock of over 700 thousand volumes, 26 internet classes, approximately 1 200 computers in academic process;
Dentistry medical centre – one of the most powerful centres in Europe, designed for 300 chairs. Every year over 290 thousand visitors attend the centre;
137 clinical bases, where approximately 200,000 patients are treated every year, over 12 thousand childbirths are taken and up to 60 thousand. operative interferences are made;
8 academic buildings, lecture halls for 2.8 thousand places, Ukrainian training centre of family medicine, 26 computer rooms;
7 hostels. 12 students' canteens and cafeterias, sport complex, sanatorium-preventorium per 75 places and recreation centre in Konch-Zaspa per 407 places;
The construction of the new twenty six storied academic laboratorial building and elite hostels was started in 2006;
22 amateur talent groups, among which 5 have the status of People's ones;
9 sport clubs;
Famous sportsmen, champions of Europe and World, winners of all-Ukrainian and International Olympiads and contests study at the University;
The students' self-government and students' scientific societies;
The University ranks the first among higher medical schools of IV accreditation level and the fourth among higher schools of Ukraine by the Ministry of Education and Science of Ukraine;
Honorary title "Laureate of Contest in Nominations "Integration of Education of Ukraine into European Community" and "Innovations in Implementation of Information Communication Technologies into Educational Practice";
The university is awarded with the Golden medals at International exhibition "Modern Education in Ukraine" in different nominations;
Since September 2011 – the University is a member of Magna Charta Universitatum, (The Great Charter of the Universities).
Accrediation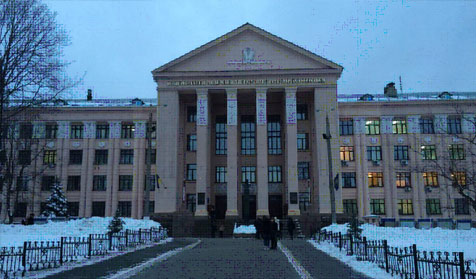 Kiev National Medical University n.a. O.O. Bogomolets was accredited with the status of higher education establishment with IV (fourth) accreditation level according to the decision of State accreditation commission, dated 10th June 2003.

University is accredited to train international students in Russian and English Medium in following majors:

General Medicine
Dentistry
Pharmacy
Kiev National Medical University is the only university in Ukraine which has a registered membership with Consortium of Universities for Global Health (CUGH) which builds interdisciplinary collaborations and assists members in sharing their expertise across education, research, and service. Degree of the University is recognized worldwide (WHO, MCI, GMC).
The University participates in numerous international research projects in the field of medicine and pharmacy. Research grants were carried out in cooperation with Austria, Britain, Denmark, Netherlands, Russia, USA, France, Switzerland and Sweden. Annually students attend summer training abroad in European countries: Austria, Croatia, Czech Republic, Germany, Hungary, Israel, Italy, Lithuania, Denmark, Malta, Poland, Serbia, Turkey, Bulgaria, France, Spain, Switzerland.
Practical Training
Practical training is important component in teaching of doctors and pharmacists.
The knowledge and skills, gained while studies at clinical and theoretical departments, are consolidated by the students during practical training. Practical training are based on the ground of numerous medical preventive establishments in the city of Kiev, Dentistry medical centre at O.O. Bogomolets National medical University, 10 sanitary epidemic stations, 4 pharmaceutical plants, 7 pharmaceutical unions with tens of pharmacy stocks. Annually around five thousands students go through the practical raining. The practice is held by more than 280 health care specialists and experienced teachers of the University, with the highest medical category.
International students from 47 different countries do practical training as well. The qualified academic staff of the University speaks English fluently and consequently knows the medical terminology in English. The teachers are also assigned to manage the practical training of international students in English medium.
Annual practical training beginning from the first year allows students to gain skills and practice before employment, which enables them to orient in clinical situations; to make the correct diagnosis; to prescribe the treatment; to render the first aid; to make the medicines due to the individual prescription; to get knowledge of clinical pharmacy, chemist's and industrial technology for production of drugs. The practical training helps students to adapt to the future working place, impart practical skills in the collective, performance of rules and ethics and deontology.
Accommodation
Kiev National Medical University n.a. O.O. Bogomolets offers various options for international students to stay during their studies at the University.
There are 7 hostels at the University campus. International students' hostel is a big complex of 17 floors buildings. Students are offered place in the hostel on an individual contract system. Students may choose single, double or triple room by his / her option. Each and every room is favourably equipped with all the necessary facilities for comfort studies and leisure time of a student. International students enjoy regular services of electricity, heating, cold and hot water, cleaning and security which are free of payment and provided by the University. As the matter of course all the rooms are completed with bed, mattress, pillow, blanket, desk, chair, cupboard, and suitable lighting for student studying and rest. Students are free to use Wi-Fi for their studies 24 hours day and night.
Some of the facilities available at the hostel are listed below:
24 hour security
24 hour hot water and electricity
Individual Internet facilities with a LAN connection
Equipped kitchen for students to prepare their own food
Laundry facilities
24 hour supermarkets available at 5-7 min distance
Metro station at 7 min distance
10 min distance from the University main building
Student canteen onsite the Hostel.
6 Years MD (MBBS) Course
Session 2019 - 2020
Updated as on 18th May 2019
Tuition Fee
Hostel
Total for Ist Yr
Total 2nd Yr +
Total for Course
US$
US$
US$
IN Rs.
US$
IN Rs.
US$
IN Rs.
4,500
1200
5,700
370,500
46,50
302,250
28,950
1,881,750
Calculated @ 1US$ = Rs.65.00
* Conditions Apply