Ternopil National Medical University, Ukraine, Europe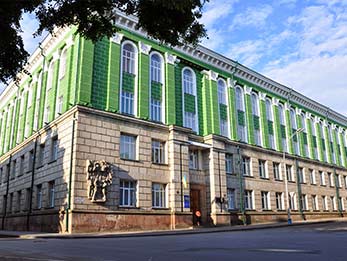 Ivan Horbachevskyi Ternopil National Medical University, founded in 1957.
April 2019 University is given Level IV accreditation.
Ivan Horbachevskyi Ternopil National Medical University is a Government university.
Over 5,000 Foreign Students from 60+ countries have completed or are studying their degree in this university.
The first international students got enrolled at the Ternopil State Medical Academy in September 1997.
Since then, their number at our University have been increasing steadily: in the academic year 2020/2021, near 2500 international students from about 60 countries are studying at Ternopil National Medical University.
About 80% of the teaching staff of TNMU have certificates of English proficiency and 80% of international students study General Medicine, Dentistry, Pharmacy and Nursing in English.
Ternopil National Medical University is comprised of five faculties, 60 departments and the Institutes of Nursing, Dental Care and affiliated regional and municipal teaching hospitals, 4 practical training centers in rural areas.
Tuition fee of Ternopil National Medical University is lower than most of other medical universities in Ukraine
The Quality of Education in Ternopil National Medical University is Very High
No IELTS or GMAT
The Admission Process is very simple & we will guide and support you at every step from submission of application till completion of degree.
Ternopil National Medical University is a part of the Bologna Process. The Bologna Process ensures a high quality of education to make it at par with the education level in whole Europe.
The degree awarded by the Ternopil National Medical University of Ukraine is recognised by International Bodies and Organizations such as MCI, WHO, FAIMER, UNESCO etc.
Very Low Annual Fees – Studying MBBS in Ukraine costs 70% lower than the Private Medical Colleges in India. No Donation & no Hidden costs.
Guest lecturers/professors and visiting faculty of the Universities in Ukraine include Globally Acclaimed Teachers and working professionals who are able to share their knowledge and experience with the young minds.
Cost of living is also affordable in Ukraine.
The medium of instruction for 6 Years MD Course (Equivalent to MBBS in India) is English.
Studying a 6 Years MD Course (Equivalent to MBBS in India) in Ukraine provides our students a gateway to join their higher education or services in various other European Countries.
A group of students in a class is 10 to 12 comprises a class
Small size of class ensures individual attention to Students for better education.
We started with first lot of our students to "Ternopil State Medical Academy" (now Ternopil National Medical University) in 2002.
RANKINGS AND REPUTATION
In 2021, Ternopil National Medical University is holding country Rank 15th and World Rank of 3368 according to QS Ranking system. The University currently achieved the 4th level Of Accreditation.
QUALIFICATIONS
Ternopil National Medical University is listed in the FAIMER (International Medical Education) directory under ECFMG and the WHO (World Health Organization) directory of Medical Universities/Schools. In addition, TSMU's degree is recognized by WHO, US Education Department, General Medical Council of England, and in EU countries.
Since 2005 students are assessed according to the European Credit Test System (ECTS) credit-module system, which will allow the diplomas granted by the University to be converted in all countries of the European Union.
FOREIGN STUDENTS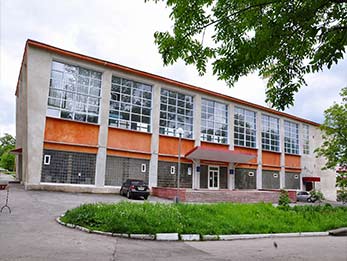 More than 2500 international students from 60 different countries are studying in Ternopil National Medical University.
The University collaborates with several foreign institutions.
Ternopil National Medical University is the first university in Ukraine to adopt the American Nursing Program. In the American Nursing School and International Nursing School, teaching follows the American Nursing School curriculum. TSMU collaborates with the University of South Carolina Upstate (USA) to exchange academic programs for nursing students.
The Nursing School offers two degrees:
Associate Degree in Nursing (ADN) – two-year program
Bachelor of Science in Nursing (BSN) – four-year program (or two years for those who already have a nursing degree)
After graduation, students are eligible to take the National Council License Examination (NCLEX) and Commission on Graduates of Foreign Nursing Schools (CGFNS) for registered nurses to start working and living in the USA. After obtaining an associate degree, students can transfer to the USA for a bachelor's degree.
FEE STRUCTURE TERNOPIL NATIONAL MEDICAL UNIVERSITY, UKRAINE, EUROPE
FIRST YEAR TOTAL INCLUDES Ist year Tuition Fee, Hostel Fee, All Admission Procedures in destination country, Invitation letter, Sim Card, Local Support, , Immigration Clearance, Visa Extension, Residence Permit, Health Checkup, Registration, Airport Pickup.
Other Expenses: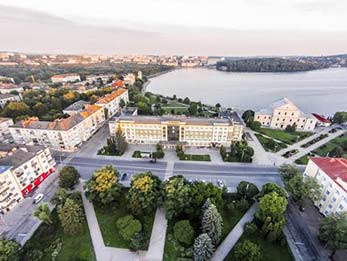 $ 1000 for Indian food for whole first year.
Medical Insurance for 1st Year = $ 100
Hostel Charge US$ 650 per year hostel will be allotted depending on availability
Food & Pocket money extra. About 50 per month depending on the habits of the student.
Visa documentation & Processing at actuals
Airfare at actual price.
Important Information:
Tuition Fee as Mentioned above will remain unchanged for whole duration of course for student joining this year.
Free Pen Drive containing MBBS material worth more than Rs. 1,00,000 including MCI Screening Test questions, USMLE study materials, Educational Videos, e-books, etc.
USD 1 = ₹ 70 has been used for calculation of fees above. Please use the existing exchange rate to calculate fees in INR.
Currency rate is used for calculation; Student has to pay as per the rates prevailing on the date of currency conversion or date of travel.
No Hidden cost. No Donation.