Contact Us
We are Official Representatives, Counselors, Consultants and Coordinators of leading Foreign Institutions in India. For professional education "Admission Advisor" guides you to seek admission in various institutes around globe.
Admission Advisor
"Admission Advisor" is a trusted name by the parents and students for more than 13 years for MBBS admissions abroad.
"Admission Advisor" provides assistance for pre admission and post admission procedures. We provide assistance for all documentation required in India for admission process, Visa, Air ticket, Foreign exchange & all documentation on reaching destination country. We provide complete assistance throughout the course. We are available in each university to ensure safety and welfare of Students.
Why "Admission Advisor"?
We provide the most reliable services & information !
We offer Quality Advice on Quality Higher Education.
Free advice on wide range of topics from Undergraduate & postgraduate programs application procedures, visas and many other topics.
Our assistance is transparent and efficient.
For Complete Free Information, Assistance & Guidance - call us or write to us or visit our office.
For more details contact our office or mail your further query or visit our website.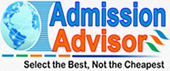 GO FOR THE BEST;
DO NOT COMPROMISE ON YOUR FUTURE!!!
Leading Colleges