V N Karazin Kharkiv National University Ukraine, Europe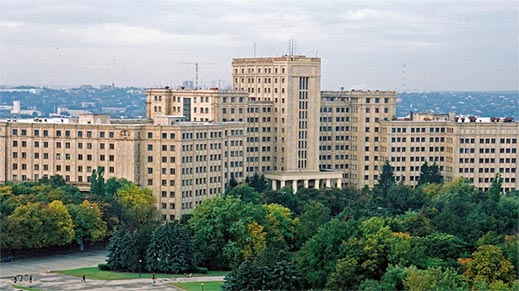 Study in Premier Government Medical Universities in Ukraine (Under Ministry of Health & Education, Government of Ukraine)
Admission by simple application.
No ILETS and TOEFL required.
100% visa for deserving students
Limited Seats for Foreign students
Low Fees, No Entrance, No Donation
Quality Education with affordable price.
Medium of instruction - English Medium
Ukraine is the 2nd largest country in Europe.
Only 10 students per class. Individual attention.
Daily Class Tests & 100% Attendance needed.
MCI Recognized: Eligible for Govt. Jobs and PG Courses in India
Proven high quality of education and excellent academic standards
Degree Offered: MD (Equivalent to MBBS in India) – 6 years course.
European life standard yet low cost of education, living and traveling
Best opportunities for clinical exposure at university affiliated hospitals
Indian students studying in Ukraine can practice in India after appearing for Screening Test.
Wide range of possibilities & broad exposure to clinical practice in highly equipped multi-profile hospitals
Bilateral Student Exchange programs on various subjects held in collaboration with universities of Germany, Sweden, Czech Republic and Finland.
After completing studies, a student gets the chance of applying for permanent settlement in Ukraine or in other countries of Europe.
Guaranteed Visa Assurance to deserving candidates.
Courses: MD (equivalent to MBBS in India) Dentistry, Pharmacy, Nursing.
Options: English medium, Russian medium, Preparatory course, Accreditation by MCI, Low fees, 24/7 medical aid, Accommodation guaranteed, Indian Food, WI-FI, video monitoring in hostel
All of the colleges are Members of the following International organizations
World Health organization (WHO)
Medical Council of India(MCI)
United Nations Organization(UNO)
International Association of Universities(IAU)
European universities Association (EUA)
European Association of International Education (EAIE)
World Federation of Medical Education (WFME)
Association of Medical Education of Europe (AMEE)
International Education Society (IES, London)
European Credit Transfer System (ECTS)
FAIMER etc.
The students with medical degrees from Ukraine are permitted to apply for International Licensing exams like USMLE (USA), PLAB (UK), MCI Screening Test as well as in other countries. Graduates can apply for license with Medical Councils of more than 180 countries.
The process of Europe unification has been accompanied by the establishment of a common education and research framework as well as development of uniform criteria and standards in this field within the whole continent. This process is called the Bologna Process.
The Bologna Process started on 19 June 1999 in Bologna (Italy). 40 countries are participating Bologna Process.
Ukraine joined the Bologna Process in 2005.
Universities in Ukraine are teaching under "Bologna Process – European Credit Transfer Scheme or ECTS" that means the course is compatible in all countries of Europe including UK and Germany. The Ukrainian method of teaching is at par with that of the rest of the world and thus students find acceptance in fields of work as well as places of higher education elsewhere.
Ukraine, Europe - Located in Eastern Europe, Ukraine is the largest country within the continent. Ukraine became independent in 1991 with the fall of the Soviet Union.
Ukraine is the second largest country in Europe, with an area of 603,700 square kilometers; a coastline of 2,782 kilometers and a population of 50 million plus. The capital and the largest city in Ukraine is Kiev. The seven neighboring countries are: Belarus, Russia, Slovakia, Hungary, Romania, Moldova and Poland.
Ukraine has temperate continental climate in the mainland with Mediterranean climate on the coastal belt. Winters vary from cool along the Black sea to cold farther inland.
Education for Foreign Students: Ukraine has the Europe's largest international student population, with nearly 20,000 students choosing to broaden their education and life experience in the Ukraine. From the mid-1990's, when international student enrolment was only just reaching 5,000, international education in the Ukraine has come a long way. At present there are more than 3000 Indian students studying in Ukraine in different fields.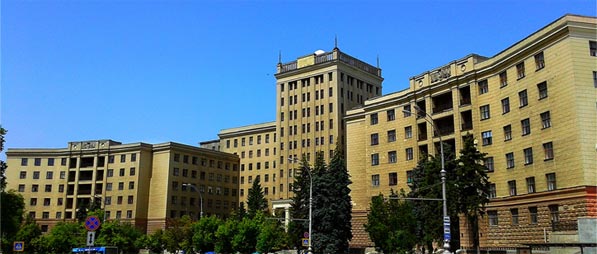 Student Life, that's the living and learning that takes place outside of the classroom and it's a big part of your college experience. It includes where you live, how you make connections, and that hard-to-define essence, or culture that separates Ukraine from other countries. Ukraine has its own ambience.
Ukraine has always been open to foreign students. There is huge number of institutes of Higher Education in Ukraine and over 30,000 international students are enrolled in various institutes from over 100 countries from Asia, Europe, America and Africa. The international student community in Ukraine comprises men and women from all over the world; who have the invaluable experience of studying together with students from many different cultural and national backgrounds. Contact with students from many countries in the world broadens understanding of other peoples & provides valuable friendships, many of which last a lifetime.
Student Life in Ukraine: Ukraine is a place where studying goes beyond the classrooms. Ukraine gives you chance to enjoy intercultural life and learn from the best of the best and prosper as a globally demanded professional.
Student life in Ukraine does not differ a lot from that in other European countries. Universities provide students with books and relevant studying materials. Libraries with computer rooms are also available. Student life in Ukraine is noticeably cheaper than life in other European countries.
Currency: Hryvnya (UAH) in the denominations of 200, 100, 50, 10, 5, 2, and Coins are denominated in 50, 25, 10, 5. Foreign currency is readily changed at numerous currency exchanges on the streets or in banks. International ATM cards work in most ATMs.
MD Medicine (MBBS) in Ukraine –
The duration of this course is 6 years and the degree awarded is Doctor of Medicine that is M.D. which is equivalent to the MBBS degree offered in India. During these six years of study, students get to learn various fundamental disciplines as well as specialized medical subjects. International students are divided into small batches and learn along with localities so as to ensure a healthy atmosphere.
V.N. Karazin Kharkiv National University
Is one of the oldest universities in Eastern Europe, founded in 1804. The University initiates wide program of international cooperation with 61 partners in 25 countries worldwide. The University was among founding members of Great Chartia of European Universities, (Bologna, 1988), and Eurasian University Association (Moscow, 1989). V.N. Karazin Kharkiv National University ranks 3rd rate up to UNESCO "Ukrainian Top 200 Universities".
V N Karazin Kharkiv National University is one of the oldest universities in Eastern Europe.
It was founded in November 1804, on the initiative of the prominent educator V.N. Karazin.
Today the University rates among the best Ukrainian classical universities.
The University has graduated over 130,000 students.
Its offspring are the National Academy of Law, the National Pharmaceutical Academy, Kharkiv Medical University, Kharkiv Pedagogical University, the Kharkiv Veterinary Academy, the Kharkiv Academy of Culture, Kharkiv Economic University and other institutions of higher education.
Kharkiv National University has 21 Schools: the School of Biology, the School of Physics & Technology, the School of Radio Physics, the School of Physics, the School of Computer Sciences, the School of Philosophy, the School of Mechanical Engineering, the School of Geology & Geography, the School of Economics, the School of Foreign Languages, the School of History, the School of Philology, the School of Fundamental Medicine, the School of Chemistry, the School of Sociology, the School of Psychology, the School of Law, the School of International Economic Relations & Tourism, the School of Further Education & Retraining, the School of Physics & Energy.
The University employs up to 1,500 faculties.
Kharkiv National University is one of the largest research centers in Ukraine.
It covers virtually all spheres of modern fundamental research and incorporates the Research Institutes of Chemistry, Biology, and Astronomy, the Institute of Physics and Engineering, and the Institute of High Technologies.
Within the framework of international programs its researchers co-operate with scientists from the USA, Canada, Russia, Germany, Turkey, China, Japan, Switzerland, Bulgaria, Great Britain and other countries.
Since 1808 the University has its own Astronomical Observatory which is one of the leading astronomical centers of Ukraine.
The University's Botanical Garden was founded in 1804 and is the oldest botanical garden in Ukraine.
The University's Natural History Museum was founded in 1807 and is one of the oldest university museums in the world.
In October 1999 Kharkiv State University gained the status of a national university and was named in honor of its founder, V.N. Karazin.
In 2003, following the decree of the President of Ukraine, V.N. Karazin Kharkiv National University obtained the highest status of a self-governing (autonomous) state university.
V.N. Karazin Kharkiv National University is involved in extensive international cooperation and is an active member of the international community of the leading European and world universities. It cooperates with 61 partners in 25 countries of the world.
Together with other major European universities, in 1988 Kharkiv National University signed the Great University Charter that initiated the Bologna Process.
The University is a co-founder of the Eurasian University Association and is a member the World and the European University Associations.
The most effective cooperation of the university is established with
Belarusian State University (Belarus);
St. Cyril and St. Methodius University of Veliko Turnovo, Sofia University 'St. Kliment Ohridski', Bulgarian Academy of Sciences (Bulgaria);
Anhui University, Harbin Institute of Technology (China);
Sungkyunkwan University (Republic of Korea);
University of Gdansk, Adam Mickiewicz University at Poznan (Poland);
M. Lomonosov Moscow State University, Moscow Engineering Physics Institute (State University), Orel State University, Institute for Nuclear Research at Russian Academy of Sciences (Russia);
Pavol Jozef Safarik University in Kosice (Slovakia);
University Claude Bernard (Lyons I) (France);
Friedrich-Alexander-University Erlangen-Nuremberg, Max-Planck Institute of Plasma Physics (Germany),
As well as with universities of the Transborder Belarusian-Russian-Ukrainian University Consortium.
Fees Structure V N Karazin Kharkiv National University, Kharkiv, Ukraine, Europe
Note :-
View full fees structure, scroll left to right
NOTE:-
Admission is subject to Final approval of students Application by the University & Availability of Seat
Currency rate is used only for calculations & Student is to pay as per rates prevailing on the date of conversion.
Hostel charges depend on the availability of room / accommodation type at the time of arrival of student..
Food Charges Depends on the student's lifestyle varies between 100$ to 200$ per month or more.
Miscellaneous expenses as mentioned above refers to Annual Medical Insurance & Visa Renewal
Rates for air ticket shall be paid as per rate on the date of actual booking or travel by the student.
Though due care is taken while preparing this chart there may be changes in the same from time to time depending on updates.
Details of Admission; Visa Processing (TO BE PAID IN INDIA):
Application fee (to be paid at the time of submission of application) = Rs 10,000/=
Processing fee (to be paid on receipt of scanned copy of admission letter = Rs 40,000/=
Complete Visa Documentation /processing (to be paid before applying visa) = Rs 30,000/=
Final Payment to be made before flying = Rs 20,000/=
Total for Admission; Visa Processing (TO BE PAID IN INDIA)= Rs 1,00,000/=
Admission Application Processing Fee (one time expenditure to be paid in India) 1,00,000
This Includes Admission Processing, Preparation & Processing of Documents of the candidate for forwarding to respective Ministry of Education of Ukraine for Approval, Invitation Letter, Translation of documents in Ukraine; Legalisation of Documents in MEA, India; Embassy of Ukraine Visa; Pre Departure Procedures
PLEASE NOTE - ALL THE ABOVE IS NON-REFUNDABLE