Tbilisi State Medical University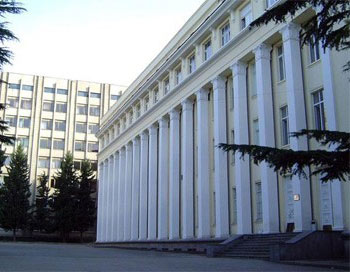 Tbilisi State Medical University (TSMU) is a leading medical university in Tbilisi, Georgia. TSMU was founded as Tbilisi Medical Institute in 1918 and became the Faculty of Medicine within the Tbilisi State University (TSU) in 1930. Tbilisi State Medical Institute was renamed Tbilisi State Medical University in 1992. Since then, the University has operated as an independent educational institution.
Rankings and reputation
Tbilisi State Medical University is ranked 6279 by 4icu.org and 6427 by www.webometrics.info
TSMU became one of the high-ranking state-supported institutions of higher education in the whole Caucasus region. There are almost 5000 undergraduate and 203 postgraduate students at the University of whom 20% come from foreign countries. Tbilisi State Medical University has undergone Institutional Evaluation Programme, performed by Association of European.
Advantages
NO Donation
NO Entrance Exams
Standard and Quality Education.
World Class Universities.
Indian Food available
Low Tuition Fees
SIMPLE Visa process.
English Medium
WHO; MCI Listed
NO IELTS; NO TOEFL required
Practical training oriented education.
Separate living facilities for boys & girls
Degrees valid in Europe; India; whole world
Conducive Environment for education.
Eligibility
The student must be at least 18 years of age and must have passed 10+2 or equivalent qualification with at least 50 per cent marks in Physics, Biology and Chemistry as compulsory subjects.
Accommodation
There are separate hostel facilities at TSU for boys and girls with food facilities, including Indian food.
Library
TSU has both electronic and physical libraries with immense collection of books and journals from all over the world. There is also photocopy, printing, and internet facility to accumulate the required hard copies for the curriculum of students.
Student Activities
There are various leisure and group activities at TSU that students can participate in. There are excursions, festivals, clubs, groups, and sports activities that are to be enjoyed by one and all.
Hospital Training
The students are given practical training at hospitals from the very beginning of their courses in various clinics and affiliated government hospitals.
Recognition -
World health Organization (WHO)
United Nations Organization (UNO)
Educational Commission for Foreign Medical Graduates (ECFMG)
Foundation for Advancement of International Medical Education and Research (FAIMER)
Our Indian Graduates are Eligible to get Full Registration in the Medical Council of India, after passing Screening Test
Member
International Association of Universities (IAU)
European Universities Association (EUA)
European Association of International Education (EAIE)
World Federation of Medical Education (WFME)
Association of Medical Education of Europe (AMEE)
East – Europe Association of Medical Education (EEAME)
European Medical Student's Association (EMSA)
TIE-UP
This university has tie-up with more than 80 medical universities across Europe, U.S and all over the world; through this tie-up the university is sending meritorious students, for a study tour to one of the university under tie-up.
Our Services
No TOEFL – Guaranteed Admissions (But need to pass a simple Qualifying Test – to check your knowledge of Chemistry and Biology)
All admission related process like getting approvals from the Government of India / other countries and in Georgian Ministry of Education, getting accreditation of your school certificate from Georgian Government, etc
Accommodation in Tbilisi
Indian Food
Guaranteed Visa for students and Parents
Guaranteed MCI Screening Test Coaching and USMLE coaching at Tbilisi
Travel Arrangements for all the 6 years
Medical Courses
European Union Medical Course
This is a 6 years medical course conducted fully in English Medium. The degree is called MD- Doctor of Medicine / Medical Doctor, which is equivalent to Indian MBBS. This course is conducted for the past 99 years at our university. Indian students started to join since 2003 and now more than 1,200 Indians are studying.
This course is directly controlled by the Ministry of Health and the Ministry of Education of Georgia.
Job Opportunities:
Eligible to work in Indian Hospitals (Government and Private), after passing screening test.
Eligible to work in European Union countries, after passing language test.
Eligible to work in USA, UK, Canada, Australia, etc after passing their licensing exams.
US- MD Course
This course is the best choice for students who plan to work in USA.
This is a 6 years medical course conducted fully in English Medium at the campus of T.S.M.U, in partnership with EMORY University, Atlanta, USA. Most of the teaching professors are from Emory University.
The Syllabus and Curriculum belongs to Emory University, Atlanta, USA.
Students will be trained from first year to pass USMLE (United States Medical Licensing Exams).
Students are allowed to appear USMLE exams from 3rd year itself.
Students will be sent to Emory University for few months during every academic year.
Advantages:
Can become Doctor and settle in the USA as a Doctor (after passing USMLE).
Direct admission to PG Courses in World's most prestigious university - EMORY UNIVERSITY.
Eligible to work in India WITHOUT screening test (after doing PG at Emory University)