Bashkir State Medical University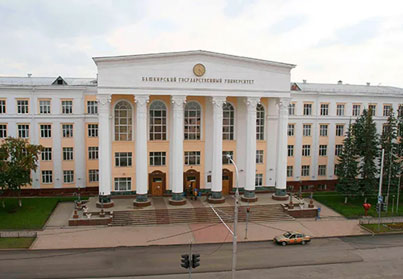 Bashkir State University is one of the oldest high education establishment in the state of Bashkortostan, Russia. It started in year 1909 as Ufa Teachers Training Institute in Bashkortostan. Later in year 1919 it was renamed to Institute of Public Education & subsequently to Bashkir State Pedagogical Institute in 1929. Finally it was given the status of Bashkir State University in year 1957 and since then it is known by this name only. It is the largest educational establishment in the republic of Bashkortostan today.
Today, Bashkir State University has 3 other branches located in Sibai, Sterlitamak & Neftekamsk respectively. The university has 15 faculties, more than 27,000 student & above 2,000 teaching staff which includes hundreds of doctors & candidates of science too. The university has about 145 departments, 100 science laboratories, library with over 1.5 million books and above all, more than 1, 13,000 students have graduated from Bashkir State University till date.
The university now provides post graduate education in 56 scientific majors and doctoral courses too in 8 scientific majors. More than one third of the total number of post graduates studying in the state of Bashkortostan is studying in Bashkir State University.
The university actively participates in international activities related to education & science. It was above 30 agreements with different universities located in US, France, Italy, Japan, China, Egypt, etc. Currently approx. 90 students of Bashkir State University are studying in different countries through the exchange programs of university.
Each year the number of applications that the university receives for MBBS admission in Bashkir is increasing and process of selection of candidate becomes more competitive. In recent years the university has gained major popularity among students of India who wish to study MBBS in Bashkir due to the good review provided by students who had graduated from this university.
No doubt that the medical faculty of Bashkir State University is very popular among students from different countries for MBBS in Bashkir, but there are many more faculties here which are as mentioned below :
Faculty of Medicine
Faculty of Dentistry
Faculty of Physics
Faculty of Biology
Faculty of Chemistry
Faculty of Economics
Faculty of Geographic
Faculty of History
Faculty of Philology
Faculty of Mathematics
Faculty of Psychology
Faculty of Information Technology
Faculty of Public Professions
Bashkir State Medical University offers following programs:
Faculty of General Medicine (MBBS)
Faculty of Dentistry
Faculty of Pediatrics
Faculty of Pharmacy
Faculty of Sports Medicine
Faculty of Postgraduate Studies
Faculty of Adaptive Physical Education Culture
Faculty of Clinical Psychology
Faculty for Foreign Students
Higher Education Nursing School
Faculty of Pre-University Education
There are five hostels that can accommodate 2000 students.
The hostels are centrally heated like (air-conditioned), and fully furnished.
The basic system is two or three students in one room.
Students are provided with full bedding.
Separate arrangements for boys and girls.
Every hostel has internet facilities provided by University.
All the hostels are well guarded with police security