AMA School of Medicine Manila / Cavite - Philippines
website:- www.amaschoolofmedicine.org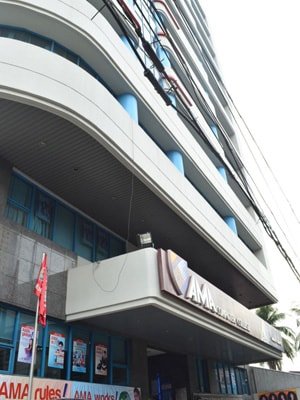 AMA School of Medicine is one of the Leading Medical colleges in the Philippines. It is Located in Makati city in Manila which is the financial centre of the Philippines; Makati city has the highest concentration of multinational and local corporations in the country. Major Banks, corporations, department stores as well as foreign embassies are based in Makati. Makati is also known for being a major cultural and entertainment hub in Metro Manila. AMA School of Medicine, Makati Campus– 2.4 kms from Indian Embassy in Makati & 6 kms from Ninoy Aquino International Airport – Manila.
Other campus of AMA School of Medicine is located in CAVITE, one of the most industrialized and fast growing province in Philippines. AMA School of Medicine, Cavite Campus– 28 kms from Indian Embassy in Makati & 40 kms from Ninoy Aquino International Airport – Manila.
Study (MBBS) BS - MD Course in AMA School of Medicine Manila / Cavite - Philippines
Degree Offered: MD (Equivalent to MBBS in India)
USA / American pattern of Education is followed.
Affiliated to 3 Hospitals in Manila (Quirino, AFP & Pasay General Hospital).
Affiliated to Armed Forces Medical Centre, BEST for training in Philippines.
Over 1,000+ hospital beds
Good Patient flow – good for clinical training.
It offers 1 yr BS + 4 yrs MD degree = MBBS Degree in India.
WHO Listed & MCI approved as per MCI Act.
Hostel (apartments) & Indian catering / mess arranged for
2 Kms from Indian Embassy in Makati & 11 Kms from Manila Airport
English is the Official Language of the Philippines,
No need to learn Language - English Medium
Excellent Teachers - Most of them are educated in USA.
Rotating Internship / Clerkship in USA possible.
Philippines has educated & sent 2nd largest number of Doctors to USA.
Philippines is the highest provider of nurses & Doctors to the USA.
Education STANDARD is Excellent.
USA / American pattern of Education is followed.
Easily accessible with flights from all over the world.
Education is gateway to countries like USA & UK.
Over 20,000 foreign students are enrolled in Philippines.
Reasonable Fees.
AMA School of Medicine is part of the AMA Education System. Dr. Amable R. Aguiluz V, is the founder of the Group. He has been an Ambassador of the Philippines to the Gulf Countries. He named college after the initials of his father's name, Amable Mendoza Aguiluz V, Sr.
Degree is recognized by
California Board of Medicine, CFGNS, USA, Govt. of India - MCI, UK, Singapore, Canada, Australia, Gulf Countries etc. CHED - Govt. of Philippines
Medical Graduates are eligible to apply for
ECFMG certification and USMLE examinations for working in the USA.
Canadian & Australia Medical Council licensing and State registration exams.
UK PLAB & Ireland registration exams.
Screening Test conducted by National Board of Examinations India for Registration with MCI.
Fees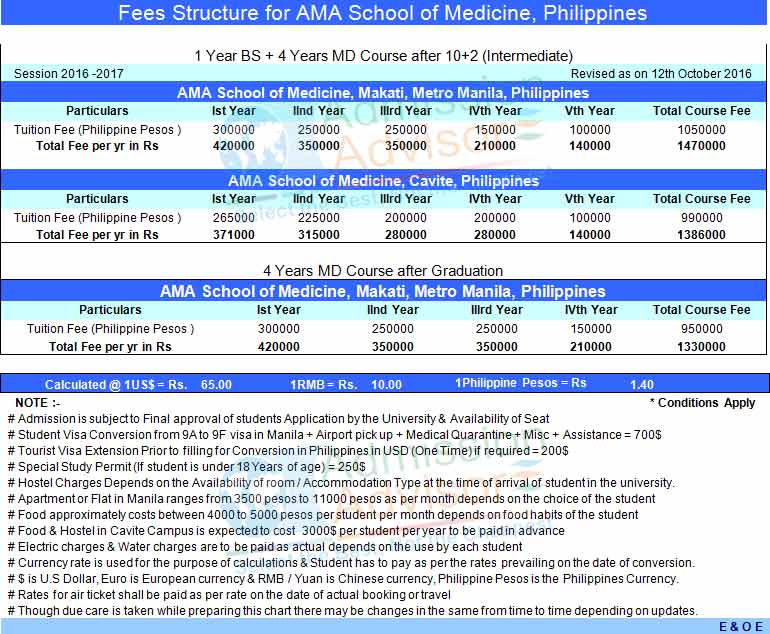 Other Expenses
Student Visa Conversion from 9A to 9F visa in Manila + Airport pick up + Medical Quarantine + Assistance = 700$
Tourist Visa Extension Prior to filling for Conversion in Philippines, if required = 200$
If student is below 18 years, then SSP fees @ 300 $ every 3 months.
Visa Renewal from 2nd year onwards is $304 every year
Hostel Charges Depends on the Availability of room / Accommodation Type at the time of arrival of student.
Apartment or Flat in Manila ranges from 3500 pesos - 11000 pesos as per month depends on choice of the student
Hostel / Apartment or Flat in Cavite Campus is expected to cost 50000 pesos per student per year be paid annually
Food approximately costs between 4000 - 5000 pesos per student per month depends on food habits of student
Electric charges & Water charges are to be paid as actual depends on the use by each student
Above Fee structure is subject to change from time to time without prior notice, only discretion of the university.
Currency rate is used for calculations & Student has to pay as per rates prevailing on date of conversion.
$ is US Dollar, Pesos is Philippines Currency.
Rates for air ticket shall be paid as per rate on the date of actual booking or travel
Other Information: There will be NO increase is Fees during the duration of the course.
Comparison in features & Advantages of AMA School of Medicine & other Medical Universities of Philippines

Comparison MBBS in Philippines & Other countries
Most of students' dream of getting admission in a good government medical school at home or abroad by scoring high in the medical entrance examinations conducted by Ministry of Education but Studying MBBS in the private medical colleges of home-country is very expensive.
Studying MBBS in Philippines, China, Kyrgyzstan and Russia is undoubtedly a good choice for those who want to become good doctors. There are no capitation fees or donations to be paid to the universities abroad. The cost of higher education in these countries is highly regulated and subsidized by the Ministry of Education (MOE). They are very reasonable in contrast to universities in other countries. The cost of living is also relatively low compared with studying medicine in India and other countries.
Medical colleges in Philippines, China, Kyrgyzstan and Russia have very small and separate batches for local and international students, where the medium of teaching is English. In addition to affordability, the medical colleges there have robust infrastructure, advanced technology and good living conditions, claim students and doctors.
Studying MBBS in Philippines, China, Kyrgyzstan and Russia is not only less expensive than India, but colleges there also provide better facilities and teaching atmosphere. After the US, UK and Australia, Philippines, China, Kyrgyzstan and Russia are most popular destinations among Indians for a medical degree. "An MBBS in Philippines, China, Ukraine, Kyrgyzstan and Russia can be a good stepping stone for people who want to become doctors, but do not have the means to do it in India or in other popular destinations such as the US or UK."
However, to be eligible to practice in India, doctors graduating from these universities have to clear a screening examination conducted by the National Board of Examinations under the directive of Medical Council of India.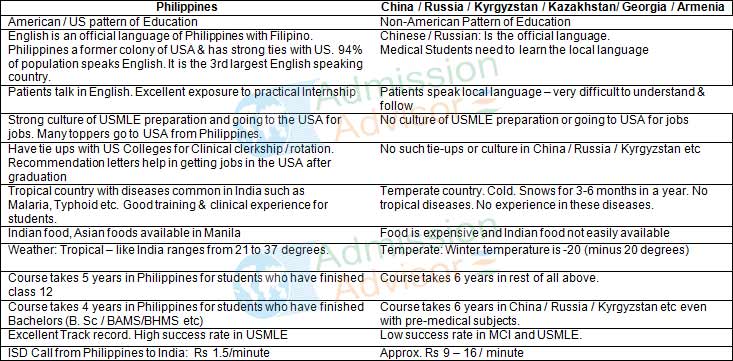 Send documents required for admission at the time of Application, through person / courier / email:-
Color scanned copy / photocopy of Application form duly filled.
Color Passport photographs for application – (4 cms. x 4.5 cms. with white background, 75% face).
Color Scanned copy / photocopy of valid passport / in case of applied – photocopy of passport application receipt.
Color Scanned copy / photocopy of marks certificate of 10th class
Color Scanned copy / photocopy of marks certificate 12th class.
Color Scanned copy / photocopy of Date of Birth by Government authority.

TODAY
Apply for a passport online today itself, save yourself from last minute rush. It is not too costly, but to be on safer side apply for a passport TODAY even if you are sure or hope or succeed to get admission in India.
Leading Colleges